As an occupational therapist, I look at functional skills from a holistic view, starting with the skills most essential for day-to-day life.
These skills include dressing, bathing, feeding, eating, and drinking (very different than feeding), grooming, sleeping, mobility, and toileting as well as managing our need to use the bathroom. These essential life-skills are called activities of daily living and they form the basis for our interactions within a variety of environments and can be seen as building blocks to an independent person.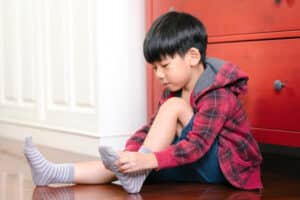 Branching out from here, functional skills vary dramatically by age. For parents, this may be the activities we undertake in our roles as employees, homemakers, spouses, chefs, and chauffeurs. They include tasks like home, health and financial management, meal preparation and cleanup, shopping, education, managing technology, or using public transportation or a vehicle. These secondary skills, or instrumental activities of daily living, are things children learn as part of growing up.
Many children struggle to complete some of life's most basic tasks. And it can often be confusing to truly understand what barriers may be preventing a child from breaking through and moving on. Myself and the professionals at My Kids Place, specialize in getting to the root of the problem and helping families move forward. It's my hope that you'll reach out with a phone call to see how we can help.